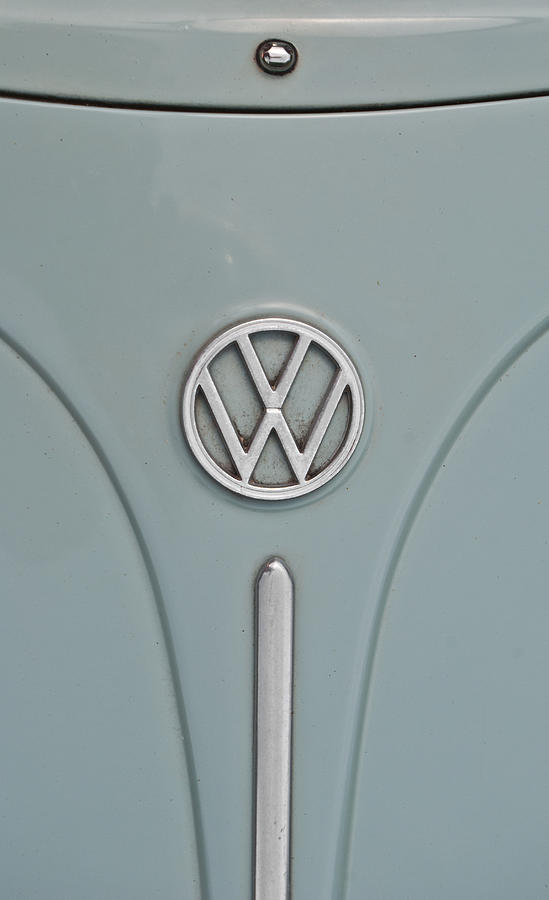 Title
1965 Volkswagen Beetle Hood Emblem
Medium
Photograph - Photograph
Description
We resently purchased a 1965 Volkswagon for our kids to drive as their first car. Her name is Gertrude. We plan to fix it up back to its original glory a little bit at a time. We were lucky to find one of these in such good condition.

Gertrude has only had three owners. The original owner had her for a long time and took good care of her, the second owner kept her for a short time stored in a garage intending on restoring her and the third owner had her for 11 years and used her as their daily driver and parked her in a garage when not in use until recently. She only has one shoe - hubcap. She had two, but not too long ago lost one while driving down the freeway. We'll be getting four new ones for her soon. A lady just looks best in brand new, shiny shoes. She'll wear them proudly, I'm sure, but does seem to enjoy going barefoot. Once a hippy always a hippy, I guess.

Update: We have done some restoration. Got her driveable by securing a new floor pan to her old body. The old floor pan was too rusted to safely drive her. We also fixed a few other things so we would be sure she was safe to drive.
After driving her a few times to my cleaning gigs (I do housekeeping a few days a week), Gertrude started not feeling so well. I checked her engine and didn't see anything obvious, so I continued driving hoping she'd make it home. She began to smoke and then I knew something was very wrong, but didn't stop soon enough and her engine died. Turns out that she flipped a belt.
Lots of people stopped to help us on the side of the road. Everyone seems to love classic bugs.
After fixing her belt, we thought maybe we could push start her, but ended up having to push her up a hill to a safe spot on the side of the road. We tried finding and fixing the problem ourselves, but to no avail. We had to take her to the car doctor. When we had to tow her on the freeway to the shop and the ride was hairy because of hills and needing to use the brakes a lot and they we stinkin'. By the time we got her to the doctor, Gertrude front brakes locked up. She was sicker than we thought.
$3000 later she was looking a lot better and even purcgased a new clutch while she was there.
When we picked her up at the car doc, she was clearly feeling much better because we caught her flirting with another classic bug full of sticker tattoos. He was dressed very well. All chromed and had handsome hubcaps. A real class act. He was older than her by two years and probably liked it, but still...it isn't ladylike to show off your lugnuts to strangers. Embarrasing. I whispered to her, "Gertie, show some class and cover your lugnuts."
Statistics
Viewed 2,149 Times - Last Visitor from Beverly Hills, CA on 09/24/2022 at 10:29 PM